Sariska National Park, also known as the Sariska Tiger Reserve, is a popular destination for seeing wild tigers in India. It is situated around 100 kilometres from the city of Pink City. Scrub-thorn desert woods, dry deciduous forests, meadows, and rocky hills make up the park's 800 square kilometres in the Alwar district of Rajasthan. This is the only reserve anywhere in the world where tigers have been successfully moved.
What We Know About Sariska Park's Past
It has been widely held from the time of the Mahabharat that the untamed area's lush forest and rugged terrain protected the Pandavas during their exile there. Tourists go to Pandupol because legend has it that Bhima and Hanuman first met there. Sariska was designated a wildlife preserve in 1955. After being designated as a tiger reserve in 1978 and therefore becoming a part of India's Project Tiger, the 273.8 km2 wildlife sanctuary was upgraded to the status of a national park in 1990.
Animals and Plants of the Sariska Tiger Reserve
Since 2004 when the first tiger, ST 1, was airlifted from Ranthambore, the park has grown to accommodate more than 20 tigers. Sightings of the Royal Bengal Tiger are what makes this forest famous. In addition to the tiger, leopard, caracal, striped hyena, golden jackal, chital, sambar deer, nilgai, wild boar, small Indian civet, Javan mongoose, ruddy mongoose, honey badger, Rhesus macaque, Northern plains grey langur, and Indian hare can be found here.
Species of birds such as the grey partridge, white-throated kingfisher, Indian peafowl, bush quail, sandgrouse, treepie, golden-backed woodpecker, crested serpent eagle, and Indian eagle-owl make bird watching at Sariska an ethereal experience.
The Numbers Behind Sariska National Park:
Sariska Wildlife Reserve is smaller and less frequented than other large parks, increasing the likelihood of a sighting. This park is a popular weekend destination for people living in the National Capital Region (NCR) because it is only a four-hour journey from the capital city of Delhi. As of May 2020, there were a total of 20 tigers, 11 of which were adult females, 5 of which were adult males, and the remainder were cubs.
Sariska Tiger Reserve Entry Points and Prohibited Areas
The earliest and most well-known entrance to Sariska National Park is called Sariska gate, and it provides access to one of the park's three distinct ecological zones. Tiger sightings are highest in Zone 1, but also in Zone 2 and Zone 3. The alternative entrance is called Telha gate, and it's located roughly 80 kilometres from Sariska gate; it provides access to Zone 4. Unlike the Sariska gate, sightings are much less frequent here.
Sariska Tiger Habitat Climate
Sariska National Park is at its most pleasant between October and May when temperatures are mild and precipitation is rare. During October through February, temperatures are typically low and frigid, and sightings are uncommon. From March to May is when you have the best chance of seeing a sight because that's when the weather is often humid and dry. Sariska's rainy season (June–September) could force the park's closure.
Best Time to visit Sariska
The months of October through May are the best time to visit Sariska. If you're specifically interested in seeing tigers, the months of March through May are your best bet. The tiger reserve's woodland is relatively smaller, making it a great location for viewing.
Best Place to Stay in Sariska
Sariska Manor resort is with a lovely Central Garden is surrounded by twenty-six magnificent suites spread among seven elegant manor residences. All of the suites are large and tastefully decorated, with each room featuring a king-sized poster bed, a sitting area, a desk, and all the required creature comforts and modern facilities for pleasure.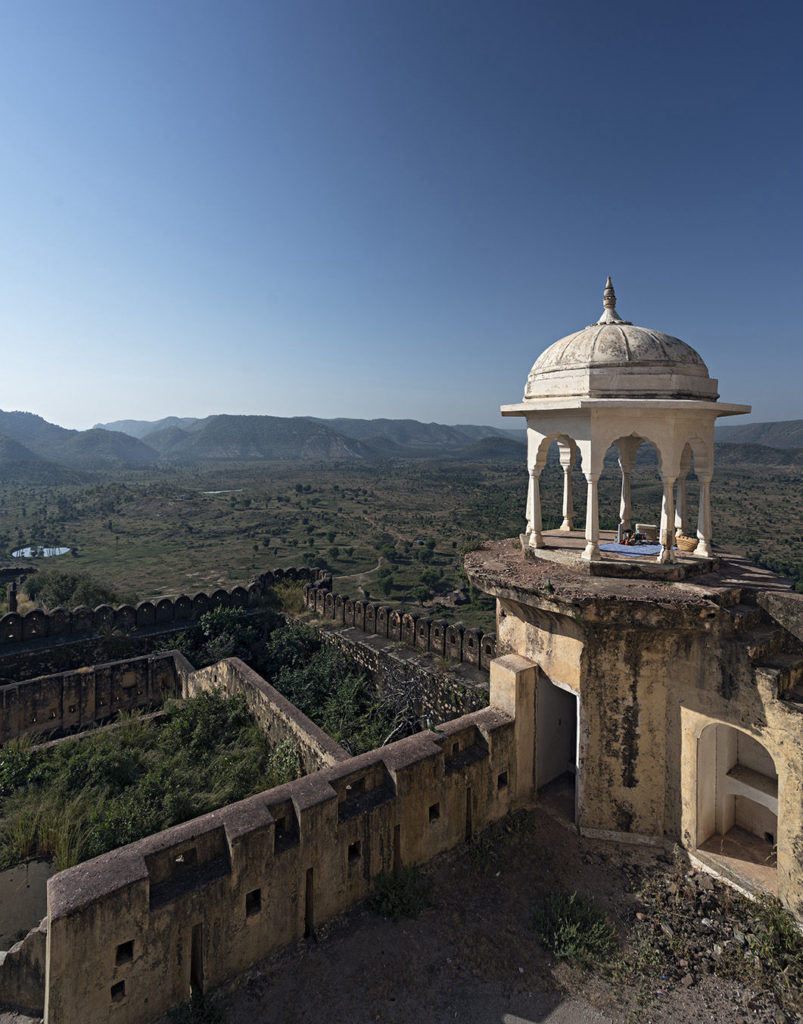 Nearby attractions around Sariska
Around 30 kilometres separate from Bhangarh Fort and Sariska Wildlife Sanctuary. Several forts and lakes add to Alwar's notoriety. About 50 kilometres from Sariska, you'll find the impressive Chand Baori step wall.
How to reach Sariska National park
By Air: The nearest airport is at Jaipur
By Rail: The nearest railway station is at Alwar at a distance of 37 km
By Road: Located on Delhi – Jaipur highway near Delhi and Jaipur. T is well connected with Alwar.
Is it worthwhile to travel to Sariska Tiger Reserve?
Sariska National Park, one of the most popular destinations in Sariska for nature and wildlife enthusiasts, is home to a variety of wild creatures, including Bengal tigers, Indian leopards, jackals, hyenas, deer, monkeys, wild boars, and rarest birds.
How many tigers are still present in Sariska?
In order to increase the tiger population in Sariska, the eagerly anticipated relocation of a tiger from the Ranthambore Tiger Reserve (RTR) to the Sariska Tiger Reserve (STR) took place. The tranquillized tiger, known as T-113, was relocated to STR, bringing the total number of big cats in the reserve to 25.
What time of year is ideal for travelling to Sariska Tiger Reserve?
The months of October, November, December, January, and February are the finest for visiting Sariska Tiger Reserve. Since this is the busiest time of year, expect some crowds. The months of July, August, and September have typical weather.
Why is Sariska National Park famous?
In 1978, it received the designation of tiger reserve, becoming a member of India's Project Tiger. The animal sanctuary, which has a total area of around 273.8 km2, was declared a national park in 1982. (105.7 sq mi). It is the only tiger reserve in the world where tigers have been successfully transferred.